the Holy Roman Emperor Frederick III. of Habsburg started to inculde this set of vocals on many official buildings during his reign. no one is sure what exactly it means, there are three (rather similar) possible meanings:
Austriae Est Imperare Orbi Universo
Austria is destined to rule the world
Austria Erit In Orbe Ultima
Austria is eternal
Alles Erdreich Ist Österreich Untertan (German)
the whole earth is subject to Austria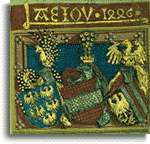 seal from 1446, showing the vocals AEIOU togetehr with the coat of arms of Lower Austria, Austria proper/Habsburg and Upper Austria.
www.aeiou.at very good database about everything on Austrian culture and history.